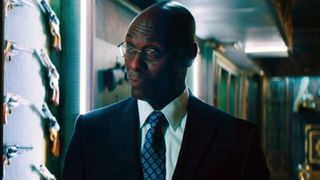 (Image credit: Summit Entertainment)

Lance Reddick has passed away, aged 60. The actor starred in several popular franchises, both in the film and video game industries.
Reddick made his big screen debut in Alfonso Cuaron's adaptation of Charles' Dickens's Great Expectations in 1998. His star rose after being cast as Cedric Daniels in HBO's The Wire, and would go onto appear in numerous detective shows such as Law & Order, CSI: Miami, and Fringe – the latter of which earned him two Saturn Award nominations for Best Supporting Actor. He earned another Saturn Award nomination after starring in Amazon's Bosch, a police procedural based on the novels by Michael Connelly.
The actor lent both his voice and acting skills to the ever-popular Destiny franchise, playing Commander Zavala across multiple games within the franchise. He also played Sylens in Horizon Zero Dawn and Horizon Forbidden WEst.
The actor starred as Charon in the popular Keanu Reeves-led John Wick franchise, with John Wick: Chapter 4 due out later this month. Reddick also reprised the role for the John Wick spin-off movie Ballerina, starring Ana de Armas. Both films will be released posthumously. White Men Can't Jump and Disney Plus's Percy Jackson and the Olympians will also mark posthumous releases for the actor.
GamesRadar