News Analysis
China's growing ties with the Middle East and North Africa (MENA) extends to military cooperation, arms sales, missiles, nuclear, and surveillance technology. Meanwhile, peacekeeping and counterterrorism missions have become an excuse to deploy Chinese troops and weapons to the region.
"We will deepen China-Arab military cooperation and exchange. We will strengthen exchange of visits of military officials, expand military personnel exchange, deepen cooperation on weapons, equipment and various specialized technologies, and carry out joint military exercises," according to Beijing's 2016 "Arab Policy Paper."
The Chinese Communist Party (CCP) claims that China is doing more to preserve peace and stability than the United States. Through participation in United Nations peacekeeping missions, the CCP is able to place PLA (People's Liberation Army) troops in North Africa and the Middle East.
The CCP security engagement with the region began in 2006, when China sent U.N. peacekeepers to Lebanon. In 2008, the PLA Navy sent ships as part of a U.N. anti-piracy mission in the Gulf of Aden. In 2012, 700 PLA soldiers joined U.N. peacekeeping forces in Sudan. The PLA Navy escorted U.N. ships in removing chemical weapons from Syria and Cyprus in 2013.
In 2015, Chinese leader Xi Jinping promised to offer training to 2,000 peacekeepers from other U.N. member states. He also pledged to contribute $1 billion to the U.N.'s Peace and Development Trust Fund. As of April 2018, 1,800 PLA soldiers and police officers had participated in U.N. peacekeeping missions in MENA. Chinese troops have been deployed in Western Sahara, Darfur in Sudan, Lebanon, South Sudan, Israel, and Palestine. By July 2019, China had dispatched 32 anti-piracy convoys to provide security in the waters near Somali and in the Red Sea and the Arabian Sea.
The PLA built its first overseas base in Djibouti in 2017, which houses over 1,000 Chinese troops, according to the Chinese Ministry of National Defense. The base was set up to allegedly help Chinese anti-piracy missions, but it also serves the CCP's strategic ambitions.
Security and surveillance have proved to be additional avenues for Chinese military technology sales and personnel deployment. Beijing pledged to support counterterrorism activities of Middle Eastern states and to help build counterterrorism capacity.
China has increased sales of artificial intelligence (AI), smart and safe cities, and unmanned aerial vehicles (UAVs) to the Gulf States. In 2020, China's Tiandy, one of the world's largest video surveillance companies, sold almost $700 million worth of equipment to Iran's Revolutionary Guard, police, and military.
Surveillance market analysts project that by 2030, the AI industry in the Middle East could be worth $320 billion with the largest buyers being Saudi Arabia, Qatar, Bahrain, and the United Arab Emirates (UAE).
Chinese security contractors are also becoming more common. As China is the region's largest foreign investor, Chinese firms and projects often do not rely on local forces for protection. Consequently, Chinese private security firms—many of which have ties to the PLA or the armed police—have been deployed in the region, including the "Snow Leopard" commando unit, Tianjiao Tewei (GSA), and Huaxing Zhong'An, among others.
China's arms sales to the region have steadily increased. Because of congressional oversight, U.S. companies are restrained from selling certain types of military hardware to certain countries. However, China is willing and able to meet these demands, selling complete systems, including training and maintenance.
Chinese arms sales to the region reached $600 million between 2005 and 2009. Saudi Arabia and the UAE are two of the largest purchasers of Chinese weapons. The CCP's 2016 "Arab Policy Paper" called for increased China-Arab military cooperation, including weapons, technology, and equipment. As a result, between 2016 and 2020, China's arms sales to Saudi Arabia and UAE increased by 386 percent and 169 percent, respectively, compared to the previous five years, according to The Diplomat.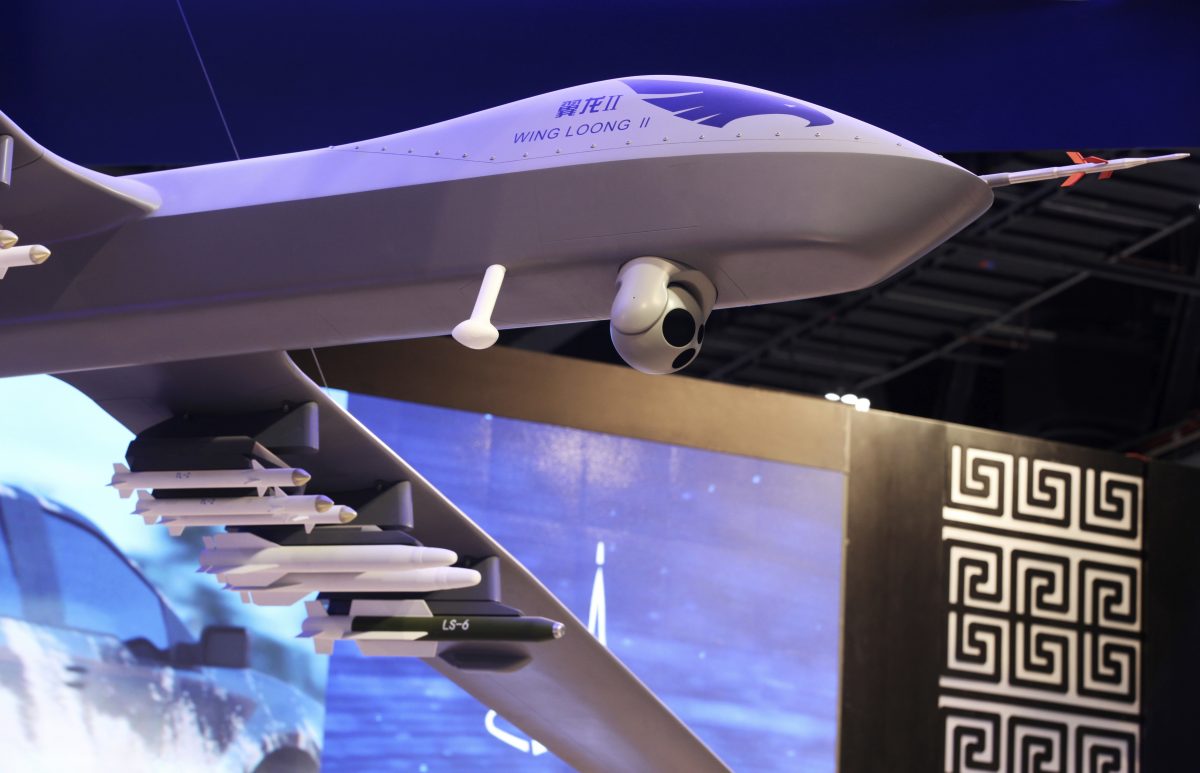 China sells drones to countries such as Iraq, Jordan, Saudi Arabia, and the UAE. China manufactures drones in Saudi Arabia, which are then deployed in Egypt and Iraq for the purpose of counterterrorism. In 2017, a Saudi Arabian company partnered with China Aerospace Science and Technology Corp. to produce China's CH-4 unmanned aerial vehicle (UAV). Similar Chinese drones have been in Iraq and Saudi Arabia since 2014. The UAE imported Chinese-made Wing Loong II drone in 2017.
Saudi Arabia has Chinese long-range missiles and has constructed a plant that produces ballistic missiles. Nuclear weapons experts believe that the plant's solid fuel rocket engine test stands are based on a Chinese design.
China and Iran signed a $400 billion investment deal in March 2021, in exchange for a regular supply of oil, at discount prices. The deal included provisions for joint military training and exercises as well as joint research, and Chinese provision of weapons.
The Middle East is slipping deeper into the Chinese orbit, and the United States could be facing an additional threat in the region.
Views expressed in this article are the opinions of the author and do not necessarily reflect the views of The Epoch Times.
Antonio Graceffo, Ph.D., has spent over 20 years in Asia. He is a graduate of Shanghai University of Sport and holds a China-MBA from Shanghai Jiaotong University. Antonio works as an economics professor and China economic analyst, writing for various international media. Some of his books on China include "Beyond the Belt and Road: China's Global Economic Expansion" and "A Short Course on the Chinese Economy."
Antonio Graceffo
www.theepochtimes.com

Read Source