The Israel Defense Forces launched strikes on residential area in Gaza on Friday, in response to the alleged threat of assault by the Palestinian Islamic Jihad (PIJ). One of the group's top members was killed. Local officials also say that the IDF attack left several civilians dead and dozens injured.
Video footage shows smoke rising from a densely-packed residential area of the Palestinian enclave, after Israeli forces conducted airstrikes. In a statement, the IDF said that the attack was launched following "the direct threats posed by the Palestinian Islamic Jihad in Gaza."
The mission was named 'Operation Breaking Dawn' by the IDF.
Friday's strikes killed senior PIJ operative Taysir al-Jabari, the IDF claimed. Al-Jabari's predecessor, Baha Abu al-Ata, was killed in an Israeli airstrike in 2019.
Palestinian health officials also claim that at least seven people were killed in the strikes, including a five-year-old girl. At least 40 people were injured, they added.
"We will not retreat and we will not hesitate," PIJ Secretary-General Ziyad Al-Nakhala said in response to al-Jabari's death.
Israeli officials have warned for several days that the militant group planned on attacking Israel with anti-tank missiles and sniper fire. The warning came after Israeli forces arrested PIJ leader Bassem Saadi in the West Bank city of Jenin on Monday. A Palestinian teenager was killed in the raid on Saadi's home.
The PIJ said in a statement that it was declaring a state of "alertness" and raising the "readiness" of its fighters in response. Israel meanwhile restricted gatherings within 80km (50 miles) of Gaza, and alerted residents to the possibility of Palestinian rocket fire, while blockading roads into and out of the area.
Israeli Defense Minister Benny Gantz visited the IDF's Southern Command on Thursday and issued a warning to Palestinian militants, saying "the threat will be removed one way or another."
Israel releases video of deadly Gaza strike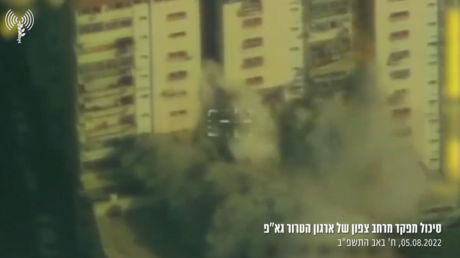 © Israel Defense Forces
A screenshot from an Israel Defense Forces (IDF) video showing an airstrike on an apartment building in Gaza City, August 5, 2022
The footage, apparently shot by a surveillance drone, captured the moment an Israeli missile slammed into the apartment block, blowing a two-storey hole in the building and setting off explosions across at least three floors inside.
The IDF confirmed shortly afterwards that the strike killed al-Jabari, who took over as commanding officer of the Palestinian Islamic Jihad's (PIJ) Gaza Division after his predecessor, Baha Abu al-Ata, was assassinated in an Israeli airstrike in 2019.
Between ten and 20 PIJ terrorists were also targeted in the Israeli operation, dubbed 'Breaking Dawn' by the IDF. Among those killed were members of a "terrorist squad" who were "on their way to carry out an anti-tank missile and sniper attack," the Israeli military claimed.
A separate video released by the IDF shortly afterwards showed a strike on a PIJ observation post, apparently conducted with artillery.
Comment: Compare Western media's response to Israel's diabolical criminality against the Palestinians, with their reaction to Russia's incursion into Ukraine; which has gone to extreme lengths, including the loss of its own soldiers, to avoid civilian casualties. The contrast is even more stark when one considers Ukraine has one of Europe's largest armies, that is being funded and supplied by some of the richest and well equipped nations on the planet.
However there are signs that Israel may be ramping up its attacks on Palestine, and elsewhere, such as Syria, not only because they know they can get away with it, and thus are becoming ever more brazen, but it also seems as though it's becoming clear that their time to achieve their nefarious objectives is running out: Russia summons Israeli ambassador, says Israel using Ukraine to 'distract from Palestine'
UPDATE: 6th of August @ 13:50 CET
Times of Israel reports that Gaza has allegedly retaliated with a rocket barrage at border towns:
Rocket sirens sound in the southern cities of Ashkelon of Ashdod, as well as the town of Sderot and a number of Gaza border communities as a barrage of projectiles is fired from the Strip.


© Yonatan Sindel/Flash90
Iron Dome anti-missile system intercepts rockets fired from the Gaza Strip to Israel on August 6, 2022

Missile defense systems intercept at least two projectiles.

There are no immediate reports of casualties or damage.

Earlier on Saturday the Israel Defense Forces said at least 160 rockets have been fired at Israel since Friday afternoon, however dozens more have been launched from Gaza since that update.
www.sott.net

Read Source