Arctic skies are filling with color today–but it's not the aurora borealis. A rare outbreak of polar stratospheric clouds (PSCs) is underway. Jónína Óskarsdóttir photographed the display from Fáskrúðsfjörður, Iceland:
"We have been seeing these clouds for a couple of days," reports Óskarsdóttir. "In this picture, Mt. Jökultindur is silhouetted by a sky-full of nacreous color."
Polar stratospheric clouds are rare. Earth's stratosphere is very dry and normally it has no clouds at all. PSCs form when the temperature in the Arctic stratosphere drops to a staggeringly-low -85 C. Then, and only then, can widely-spaced water molecules begin to coalesce into tiny ice crystals. High-altitude sunlight shining through the crystals creates intense iridescent colors often likened to auroras.
NASA models of the polar stratosphere show that temperatures have indeed dropped into the very low range required for Type II PSCs: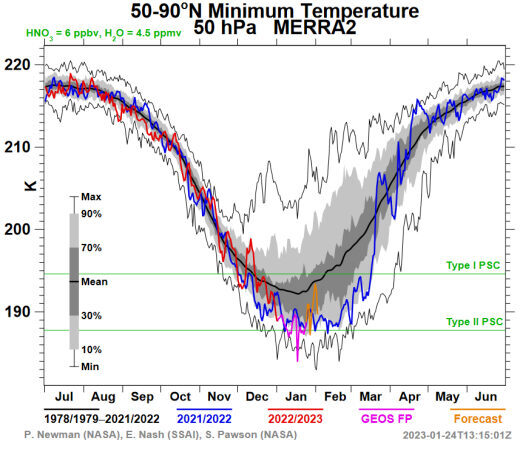 However, the forecast (yellow) calls for warming as January comes to an end, so now is the time to look. During a typical Arctic winter, PSCs appear no more than two or three times. If you see one, it's definitely worth taking a picture.
more images: from Fredrik Broms of Kvaløya, Norway; from Jónína Óskarsdóttir of Fáskrúðsfjörður, Iceland; from Francois Guilhaume-Bohl of Nellim, Finland
Realtime PSC Photo Gallery
Free: Spaceweather.com Newsletter
ROCKET LAB LAUNCH
Last night, small-satellite specialist Rocket Lab launched its Electron rocket for the first time from Wallops Island, Virginia. Mike Carroll was walking along the beach in Highlands, New Jersey, when he saw it fly by:
"It was great that my buddy Erik had his dog with him, and he posed for the photo," says Carroll.
Rocket Lab is a private company launching small satellites to Earth orbit; typical payloads weigh less than 1000 lb. Founded in Auckland in 2006 by New Zealander Peter Beck, the company established a second headquarters in Huntington Beach, California, in 2013. Rocket Lab has launched many rockets from New Zealand; last night was its first from the United States.
One of the most successful space start-ups since SpaceX, Rocket Lab hopes to sharply increase its launch rate from USA. Last night's successful launch of 3 small communication satellites from NASA's Flight Facility on Wallops Island is a good start.
www.sott.net

Read Source